Sunday, October 15, 2006
movie musings
i've just discovered that
Undiscovered
is actually being shown on Astro.
can't believe i paid 10 ringgit to watch it just a couple of weeks ago.
now it makes sense why we were the only ones in the cinema that day, log.
anyway, world trade center is one heck of a lousy movie.
either that or i'm one heck of an insensitive person.
the first 20 minutes of the show build up so promisingly but it falls flat just as the towers do.
you know how deceptively clever the producers are? they put the two magnificent towers on the movie poster and name the show World Trade Center to entice all us destruction lovers hoping to see a disaster being reenacted, but in actual fact it focuses on the two tiny main chracters shown sandwiched between the towers.
Nic
h
olas Cage
(with an unsightly moustache)
plays a policeman who charges into the collapsing towers valiantly with his bunch of cop buddies and ends up getting stuck underneath slabs of concrete without saving a soul. That's when the movie starts going down hill as the two surviving policemen experience flashbacks of being with their wives while thinking of their death, and the wives experience flashbacks of being with their husbands while wondering why they decided to rush into a crumbling tower.
most of the film time is spent focused on Cage's dirty face as he's trapped in the rubble, and boy, his moustache is distractingly crappy.
noone sums it all up better than
rotten tomatoes
:
"... World Trade Center yields lovely and touching moments but proves a slow-going, arduous movie experience ..."
the only thing is, i didn't get the supposedly touching moments like jaya did
(he somehow thinks the movie deserves a 5/5)
, which means it was just the slow-moving, arduous part i felt.
verdict: not worth going to the cinema for, but since everyone else is watching it anyway, you know you will.
one movie worth watching
(more than once, even)
is
the devil wears prada
.
i've watched it twice already, and after all the sucky movies that's been coming out lately, this was a refreshing change.
and to think i wouldn't have watched it at all if it weren't for st's high recommendations. the word
'prada'
in the title of a movie just doesn't interest most of us people who have external plumbing.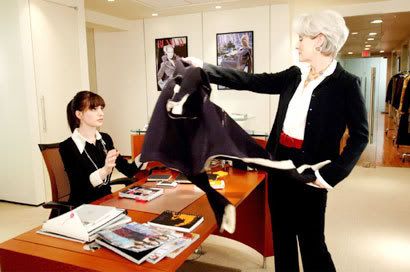 anyway, it the end it was a pleasant feel-good type movie where the charming Anne Hathaway
(clad in clothes picked by the Sex & the City's fashion people, mind you)
gets her customary happy ending. Meryl Streep was fantastic as usually expected as well.
since i never read the commercially-successful novel by Lauren Weisberger this movie is based on, i don't know how it fares in the aspect of book-to-film adaptation. anyhow, this movie is certainly worth the price of the ticket and worth rewatching as i have done thanks to err, the internet.
on other unrelated matters, this guy did a detailed review of the 10 most used BitTorrent sites available out there, which includes my old favourites mininova and torrent spy.

but it seems that BT Junkie completely owns the rest in number of torrents indexed and daily update of torrents, which has caused me to abandon mininova and torrent spy for my torrent needs now.



oh yeah, Google bought over Youtube recently, combining the best in internet search and video for US$1.65 billion(!!), opening up a possibility-filled future. and youtube co-founders Chad and Steve talk about the acquisition and their newfound riches on, you wouldn't guess, youtube. (click here to watch clip)
Posted by ~z at 12:25 AM
Sunday, October 08, 2006
elephants can't jump
i'll try to keep my posts shorter from now on, for a variety of reasons.. =p
finally finished both seasons of
House, M.D.
as well as
Grey's Anatomy
, two of the most popular medical TV series to have surfaced in the aftermath of shows like
Chicago Hope
and
E.R.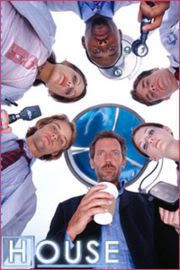 Dr. Gregory House, a maverick medical genius whose comments are as famous as his hopeless bedside manner is the obvious star of House. His sarcastic one-liners and outrageous behaviour make the show thoroughly entertaining. Hugh Laurie deserved an Emmy nomination at least for his impeccable American accent alone. What's interesting is that his father was a doctor once and he said that he felt guilty for
"being paid more to become a fake version of my own father"
after being cast as House.
Grey's Anatomy stars Dr. Meredith Grey as a surgical intern whose life is a mess, especially in relationships where she is pathetically hopeless, IMHO.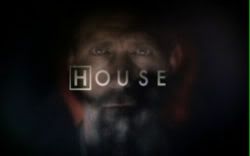 i finished both seasons of House in one week whereas it took me around a month to finish GA, which more or less sums up how i feel about each series relatively. Generally, House is a lot more heavy on the medical side where all kinds of medical jargon will pop up more frequently whereas GA, in the words of many friends, is more
sexual
. Heck, the cover itself already shows two pairs of feet under a blanket.
The very first scene of GA is about sex, and almost every episode ends up with someone sleeping with somebody new who works in the same hospital. The show focuses on lead character Meredith's failed relationships, where she either gets dumped and then cries pathetically, or hurts someone then cries pathetically.
The saving grace of the show for me, is Dr. George O'Malley, who has had a crush on Meredith since kindergarten or something. He manages to make me laugh quite often.
One cool thing about GA is the amount of indie/alternative music they play (
click here for list of songs used
), although i feel it tends to interrupt the flow of conversation in the movie by coming on at the wrong times
(contrary to what most people say)
. i distinctly remember
Rilo Kiley
's Portions for Foxes being the opening song of the first episode and making me view the show in a different light. Another cool thing is how every episode is named after a song, such as
Yes
' Owner Of A Lonely Heart and
REM
's Losing My Religion.
and i'm inexplicably attracted to the character Dr. Addison Montgomery-Shepherd played by
Kate Walsh
. i don't know why, maybe it's the way she is unbelievably nice or how doggedly determined she is to win her husband back.
i would like to say more on why i love House but the last episode i saw was a month ago so i can't really remember much. But my verdict is this,
House trumps Grey's Anatomy hands down!
I think GA relies too much on its sexual appeal whereas House has a better plot and more intriguing medical cases
(though some cases are similar in both series)
, and then there's Dr. House! watching soaps in a coma patient's room to escape clinical duty or playing on his Gameboy Advance SP while seeing patients, making fun of his boss' sexual identity or freeloading off a colleague and annoying the crap out of everyone, there's no one like him.
oh yeah, and then there's Dr. Allison Cameron in it as well, played by the ever-lovely
Jennifer Morrison
.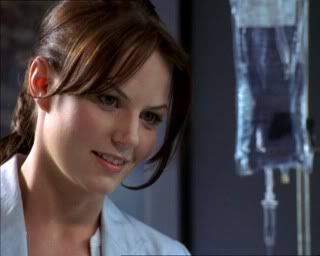 Boon says that she's the reason he watches House at all.
[mp3s]
Massive Attack
-
Teardrop (House Theme)
Rilo Kiley -
Portions For Foxes
Psapp
-
Cosy In The Rocket (Grey's Anatomy Theme)
other random stuff:
the new PS3 looks hawt (click here for review)



currently listening to the Killers' and Jet's sophomore albums and am looving what i'm hearing. will write review soon.



the freaking haze is killing me, just looking at the sky makes me miserable. mr moon was inconspicuous on mid-autumn festival thanks to those bloody slash-and-burn-ers



england drew! against macedonia! at home! whahahah...and Stevie G is suspended for their next match, which means he gets to rest and be at his best for Liverpool..wohoo.



crap, this post was supposed to be short =p
Posted by ~z at 9:57 PM
Thursday, September 28, 2006
Liverpool 3 - 2 Gala
3-0 up and then a brace is scored within 10 minutes with an equaliser looking likely. a frighteningly familiar scenario for Liverpool fans indeed. fortunately, a reverse of another Turkish miracle involving the Reds did not occur.
we should've sealed it at 3-0, but a discomfortingly error-prone Pepe Reina looked out of place between the posts. anyway, what a game by Crouch!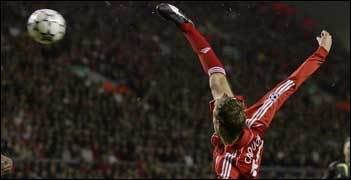 dropped for the last couple of games, he clinically scores 2 goals with the second being
"a stunning acrobatic volley into the corner of the net"
. remember what he tried to do in the world cup against T&T, when he received a cross in the box and tried to take it on the volley but that went horribly wide?
well, he did the same thing, only this time, it ended up nestled in the corner of the net.
you can watch the goal on
uefa.com's homepage
as youtubers havent uploaded it yet.
i do realise i blog a lot on football, a lot on Liverpool..it's not like i don't have anything else to write about, but when interesting blog material strikes me during the day, i'll build the whole article in that grey slab of matter between my ears with a train of thoughts, then it'll leave my head long before i plant my butt in front of my com. so i end up blogging about Liverpool, cos everytime i go online, i'll check out football sites and be tempted to write something about 'em.
~~~~~~~~~~~~~~~~~~~~~~~~~~~~~~~~~~~~~~~~~~~~~~~~~~~sigh.
you know how annoying it is sometimes people ask me questions, say, about physics or any study subject for that matter, and when i say i truly
DON'T KNOW
the answer, they stare at me unbelievingly as if i'm some cocky, selfish jerk who simply refuses to help them..you know how frustratingly annoying that is??
when i say i don't know the answer, i'm really do-not-know-a-damn-thing-CLUELESS, okay? just because i score in tests and exams doesn't mean i know a lot, i'm the kind that doesn't hit the books until the very last minute, meaning if you ask me anything about ANYTHING anytime before test/exam period, you probably know more than i do!
i'll help if i can, but more often than not, i can't.
and when i say something truthful yet be called a liar straight in the face without a moment's contemplation, it hurts...like a dagger stabbed right at the heart, from the front, from a person you'd expect to at least consider the validity, the genuineness of what is said..
maybe i babble too much nonsense for my own good, till the thin red line separating facts from blasphemy becomes blurred, like the boy who cried wolf i guess.
whoa, that was officialy a
(i think the first ever?)
personal, emo rant on this blog.
anyway, Liverpool won, so....whoopee doo da.
Posted by ~z at 6:02 PM
Sunday, September 24, 2006
chickens can't fly
couldn't be a more emphatic victory over the team that was one spot behind us last season...
3-0
! Kuyt scores
(again!)
, Riise does a repeat of the thunderbolt against CSKA London during the Community Shield, and another clean sheet at home.
Life's good as a red. i mean, what better way to bounce back from two succesive defeats than 2 succesive victories at home? being the best fans in the world that we are, Anfield will become a fortress once more.
Don't believe it? even Thierry Henry thinks we're the greatest..
"A kid asked me on Wednesday if I would have liked to play for another team," the Arsenal and France striker said yesterday. "Straight away I said Liverpool.

"First of all, I would have loved to play with Steven Gerrard and second I like the club and their fans. There's something about Anfield that you can't explain.

"I love it when you step out of the dressing-room and you see the Kop, the scarves, and [hear people] singing You'll Never Walk Alone. Just that, that would do it for me.
~a testimonial from one of the world's best..for full article,
click here
watch us singing YNWA against Chelski in that famous UCL semi-final
here
. one of the best renditions by the Kop in recent years.
At the end of the storm, there's a golden sky, and the sweet silver song of a lark.

YNWA.
a lil' piece of news that grabbed my attention,
Embrace
might be breaking up!!
see article
here
.
i've fell in love with them ever since i heard Ashes and the rest of that album was awesome too..they're like an under-rated Coldplay but with better guitars, cool harmonica melodies and more anthemic choruses. heck, lead singer Danny McNamara is a close friend of Coldplay main man Chris Martin and even got a song penned by Chris on
Out Of Nothing
.
really hope this breaking-up business is pure bull, otherwise i would really miss those sing-along tunes.
oh yeah, pat
(HE is NOT a gurl, jian)
, there's a forum on how to fix the choppy sound in iTunes 7 you mentioned. looks like you're not the only one experiencing the problems..go
here
for the remedy.
i know i'm jumping from topic to topic, but here's an
unreleased Get A Mac ad
.
and remember Marco-your-sister's-a-prostitue-Materazzi? well, that headbutt he took from Zizou not only made him infamous, he now has an ad from Nike, promoting his, er, chest power.
anybody know what that line in italian means?
Posted by ~z at 1:05 AM
Thursday, September 21, 2006
walk on
xabi's back. xabi's back. wohoo.
he has been a lil' down in form since the start of the season, but with that incisive through ball to Finnan in the build up to the 1st goal and the 65-yard stunner
(65 yards!)
, the Xabi of old is definitely, absolutely back.
i'll gladly point out that the last goal he scored for Liverpool was from the centre of the field too!
Kuyt finally opened his Liverpool goalscoring account with a well taken goal, the start of many more to come from the Dutch maestro, i believe..
YNWA!
Posted by ~z at 8:50 PM
Monday, September 18, 2006
do dream
dream?
strive to do, and agonise to do, and fail in doing.
[mp3]
Ben Folds - Landed
Posted by ~z at 8:32 PM
Wednesday, September 13, 2006
It's Showtime
Steve Jobs unveiled new iPods and iTunes 7 during
Apple
's Showtime event today.
The iPod now comes in 30GB and 80GB models at USD249 and USD349 respectively
(which are the same old prices I think).
It's got a brighter screen and better battery life now and has got a brand new search feature.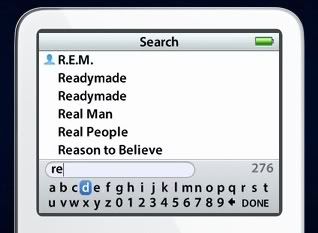 Very handy cos I believe many users of iTunes like me frequently use its built-in searchbox to look for particularly elusive tracks. Always thought they should have had something similar in iPods. It's about time.
The "Completely Remastered"
(that's their new tagline)
iPod nanos now come in 5 colors with aluminium casings for a more scratch-free experience.
Just clip it on and go, the new iPod shuffle.

Supposedly the world's smallest digital music player, it's a badge of musical devotion.
The new search feature in iPods really leave me reeking with jealousy, but i have no regrets whatsoever on getting my Eleanor when I did. New tech stuff comes out every other day so it's just a matter of time before current technology becomes obsolete anyway.
On something else, Muse has released another music video from Black Holes and Revelations, following
Supermassive Black Hole
and
Knights Of Cydonia
, this time for their latest single, Starlight.
alternative link
It's been out for sometime and rather embarassingly, i only heard about it from a PCD/Eminem-listening friend recently. What cutting down on internet time has cost me...hahah.
Posted by ~z at 9:21 PM